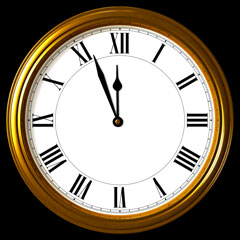 Man has kept track of time since the dawn of history. Early man used the rising and setting of the sun to determine each day's activities. He used the phases of the moon and the changing seasons to group the days into months and years. As time went on, methods were devised to divide the days and nights into hours, and to divide the hours into minutes and seconds.
Early clocks kept time by measuring shadows, but these clocks only worked on sunny days. Ancient civilizations developed simple water clocks that kept time by marking water levels in constantly-dripping containers, and more accurate sand clocks, or hourglasses, were invented during the Middle Ages. During this era, mechanical clocks were also developed; they used mechanisms involving weights, springs, and even pendulums to keep time quite accurately. Today, mechanical and electronic clocks and watches are used to precisely track the passage of hours, minutes, and seconds; and calendars are used to track the passage of days, months, and years.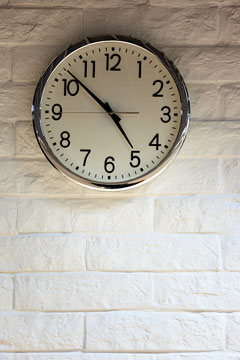 Wall clocks are useful because they can be viewed by multiple people at the same time. Just about every classroom has a wall clock. When placed above other furniture, these clocks take little space, which is especially helpful when work top space is at a premium. Wall clocks may be designed to keep time with mechanical gears, digital electronics, or a quartz crystal. They may even adjust their time periodically with atomic clock technology. A pendulum and weights, electric current, or batteries may keep these clocks running. The homeowner might choose a simple wall clock design or hang up a decorative cuckoo clock to tell the time. These elaborately carved wooden clocks uniquely tell the hour via the cuckoo bird's call, and sometimes even add music to entertain.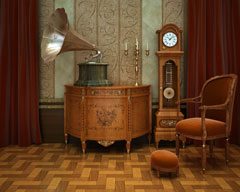 A grandfather clock not only strikes the time, but also serves as a piece of furniture. It may have a selection of chimes to choose from, and often shows the phases of the moon. Most grandfather clocks operate via a pendulum and weight system. The weights on grandfather clocks must be adjusted about once a week in order to keep these tall, floor clocks running.
Perhaps the most frequently used clock is the alarm clock. It is set to faithfully awaken its owner or alert its owner to an appointment. Traditional alarm clocks use mechanical gears and a spring that must be wound each day. Many modern alarm clocks are electric or even use digital electronic timekeeping methods. While going through the day's activities, yet another timekeeping device — the watch — keeps us on schedule. Specialized wristwatches are used to track time for sporting events or sports activities.
Alphabetized lists of, and links to, clock manufacturers throughout the United States are available on this manufacturer directory.
Clock-related video resources include a copper toned alarm clock ringing its bells to awaken its owner, a cuckoo clock announcing the hour of noon, and the Big Ben clock on Saint Stephen's tower.